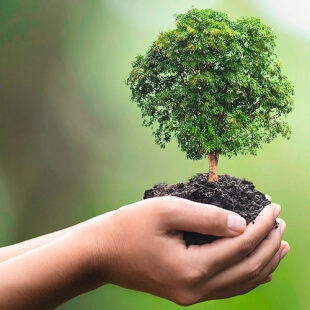 The Mistral enterprise, always sensible to customer needs and to respect the envronment in which its hotels operate, is developing a careful policy of environmental sustainaibility to provide a low environmental impact staying in its hotels. 
Aware of the high environmental value of the area in which it operates, the Company is daily committed in applying behaviours and actions aimed to reduce the environmental impacts of its activities and to promote the culture, nature and the culinary traditions of the area.
This effort aims to improve the following areas:
Energy and water resource management
Both hotels have recently installed photovoltaic systems which enable self-production for about 10% of the energy required for their operation;
The purchased electricity comes from renewable sources and it is totally certified;
Both hotels are equipped with devices for saving water and energy.
Using chemicals
The use of chemicals is limited to the minimum to ensure compliance with the legislation.
Waste management
The Company carries on a careful collection of waste by putting at your disposal bins located in the hall and the common areas;
To reduce the production of waste, it offers to its customers only water bottled in Sardinia, mostly with returnable glass, and it provides for the installation of small ecological areas to collect plastic that will be trasferred to companies specialized in recycling this material.
Environmental communication to the guests
Sure of the important role of its hotels in the promotion and development of the territory, the Company proposes to its customers paths, routes and suggestive destinations, providing promotional material to guide them to discover the environmental, natural, historical, archaeological and gastronomical excellences of Oristano area;
In the order to promote the culinary traditions of the area, its restaurant kitchen offers dishes made with local seasonal products. The Mistral2 restaurant has been recognized among the "Typical Resturants of Sardinia", by the Department of Tourism of Regione Autonoma della Sardegna.
Monitoring of environmental performance
The Company has organized a system to collect the main environmental indicators related to energy and water consumption, waste production and chemical use that allows to have a data base in real time to evaluate the environmental performance of its hotels.